Thirds who are «first» in tourism.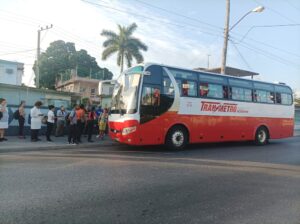 The 2022/2023 tourist boom season in the province of Matanzas reaffirmed the importance of the contribution of the so-called third-party services, essential players in the need to effectively manage operations in the leisure industry.
And it is precisely on so many little ones that such a strategic sector depends to support its services, make them efficient and delight those who choose Matanzas as a vacation destination.
Some time ago, I wrote that a late sheet, a bus that fails, any support that depends on others, would complicate daily life in the more than fifty hotel facilities in Varadero, the main sun and beach resort of the island.
The same as the International Clinic or Constructions for Tourism (CITUR), Attention to the Natural Resources of Tourism (ARENTUR) classify among the essential entities for the daily life of the also known as Playa Azul (Blue Beach).
The workers of ARENTUR, an entity that accumulates important balances in its sales, know very well the accurate answers that a destination of high strategic relevance like this one expects.
Responsible for the conservation and improvement of the environment, maintenance, cleaning and care of the beaches, streets, gardening and ornamentation with plants and flowers in the hotels, among other tasks.
In any corner of Varadero there are ARENTUR's hands, whether late at night picking up tons of solid waste or planting gardens in the hundreds of meters that its workers cover.
However, an indispensable third party in the daily life of Varadero's leisure industry is, without a doubt, Transmetro, in charge of the movement of the more than 15 thousand men and women employed in the strategic sector.
Transmetro's service, far from pleasing, continues to rank as the main complaint of managers and workers at the famed Playa Azul. Solving this problem once and for all will be a guarantee to achieve the competitive tourism demanded of an industry whose main attribute is its workers.
All the borrowers who pay taxes to the few who make up the leisure industry must understand how much it depends on them to ensure that quality and efficiency are maintained smoothly in Varadero's hotels. That is why, for tourism, the so-called «third parties» must come first.
Photo: The quality of tourism in Varadero depends on «third parties» such as Transmetro. Photo: From the author.
Written by Eva Luna Acosta Armiñán.