Matanzas delegation leaves on the eve of important trade union meeting.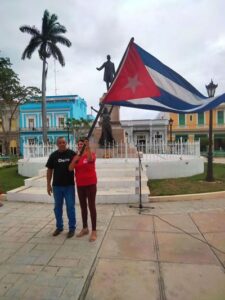 The flag of the Second National Conference of the Trade, Gastronomy and Service Workers Union (STCGS), which will hold its final sessions in Havana on November 17th and 18th, is already in the hands of the Matanzas delegation.
At the official ceremony, held in front of the José Martí obelisk in La Libertad Park, the secretary general of the Provincial Committee of the Cuban Tarde Workers Union (CTC), Osmar Ramírez Ramírez, placed the banner in the hands of Nadiezma Gómez de Armas, leader of the STCGS in this  territory.
Gómez acknowledged the motivations of the different centers, aiming at the improvement of the sector and the gradual process of bankarization, where Matanzas stands out for the incorporation of the units to the extra cashier service, to the use of the payment gateways through Transfermóvil and Enzona.
The direct delegate of Empresa de Alojamiento Guanima, Tamara Martínez González, read the commitment of the people of Matanzas, who support the motto of the meeting in pursuit of an improved commerce, of challenges and victories.
Among the nine delegates, three representatives of the private sector stand out, including Leonel Lemus Vázquez, sole partner of Kfe Xpress, the only MSME of the Ministry of Commerce that has the diploma of Vanguardia Nacional, the highest emulative category granted to a labor group by the national CTC, at the proposal of the unions.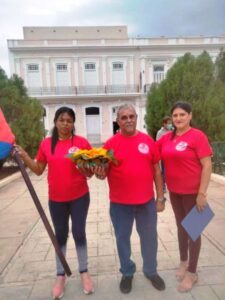 The productive chains, the difficulties with raw materials, the links with new economic actors, as well as the stimulation of all the affiliates are some of the topics foreseen for the National Conference, which is held every five years.
Written by Eva Luna Acosta Armiñán.