Suchel Jovel present at First International ExpoSur 2023 Fair.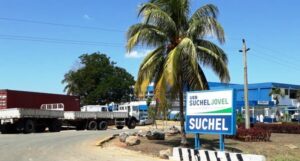 Suchel Jovel, a company belonging to the Suchel Union of the Ministry of Light Industry, is one of the Cuban companies participating in the First International ExpoSur 2023 Fair, which is being held at the Pasacaballos Hotel in Cienfuegos until tomorrow, September 17th.
This Unified Socialist State Enterprise stands out for its sustained economic stability and the quality of the products and services it offers and is attending this important business event to showcase its industrial potential and wide range of products for personal hygiene, domestic hygiene and industrial uses.
The event is a propitious space to promote the presence of international exhibitors, foreign trade business and foreign investment intentions and Cienfuegos as a tourist destination.
Hence, during these days and under the slogan Doing more, for Cuba, Cienfuegos is the venue of a multisectoral platform where the Socialist State Enterprise, Local Development Projects (PDL) and new actors of the economy converge, as well as guest countries in search of business opportunities.
Suchel, a Jovellanos company, will also promote exchanges with new economic actors and strengthen productive linkages with the rest of the national and foreign business community.
This event is a space for the development of theoretical events, launching of goods and services, business meetings, legal and commercial advice from the competent entities, among other activities.
The ExpoSur 2023 International Fair will be held in the hybrid modality in its on-site venue, located at the Fairs and Exhibitions Center of the Pasacaballos Hotel, and the virtual one at the Cuban platform FEVEXPO.
Written by Yosier Argueso Miranda.