Matanzas: Banking System will provide guidance in Business Fair.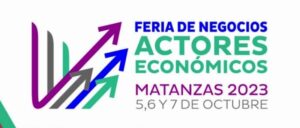 Entities of the banking system will participate in the II Business Fair of Economic Actors coordinated by the Government of the province of Matanzas, scheduled from the 5th to the 7th, to exhibit services, generate alliances and promote the informatization process of the society.
The Banco de Crédito y Comercio (Bandec) and the Banco Popular de Ahorro (BPA) will have a stand to interact with the participants, exchange experiences, deliver Multibanca cards and assist users who wish to install the Transfermóvil and Enzona applications.
Yanetsy Chávez Camaraza, provincial director of Bandec, explained to Agencia Cubana de Noticias that the entity will promote the use of payment channels by explaining to customers about the banking process and its potentialities.
We will take advantage of the presence of different economic actors, both state and private, and in a particular way, depending on the conditions of each one of them, we will offer them information so that they can access the services they have not yet had access to, she argued.
The banking specialists will provide advice to the representatives of the MSMEs and, in general, to the economic actors, on the financing possibilities they can access, and on their insertion in the process of bankarization of the operations due to the advantages they offer.
Belkys Plasencia Cruz, director of the BPA in the province of Matanzas, said that the Fair will be a good space for the different market segments present to obtain, if they do not already have it, the matrix card that allows making electronic payments from a magnetic card and a cell phone.
In the first Business Fair of Economic Actors coordinated by the Government of the province of Matanzas, held the previous year, the participating banking entities achieved marked acceptance for the advice provided, and in this 2023 they aspire to better results.
Written by Yenly Lemus