Beginning of the Aldabón Awards for young Matanzas writers.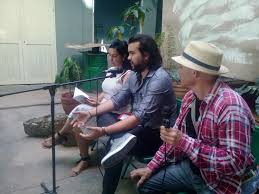 As part of the celebrations for the 330th anniversary of the city of Matanzas, the Aldabón 2023 awards ceremony begins on October 4th, in two days of work that include a varied program of literary encounters.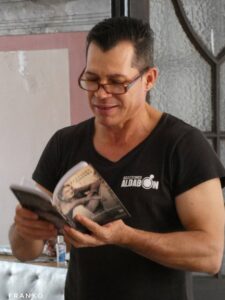 The event, whose main venue will be the publishing house of the same name, is celebrating its 25th anniversary and is dedicated to writer Alfredo Zaldívar Muñoa, winner of the National Publishing Award.
At a press conference, Daniel Cruz Bermudez, director of Aldabon Editions, gave details about the event, sponsored by the Provincial Center for Books and Literature, which will bring together young writers from Matanzas.
«In this fifth session of the award, we open the program with the presentation of the book «La ira de los sobrevivientes», by Malena Salazar, La Edad de Oro award. Later in the evening, a reading with the young writers of the AHS will take place in the Patio Colonial, starting with the Peña Los Grafómanos.
On Thursday, «La hora de Aldabón» will be held with the colloquium «Los desafíos de la joven narrativa matancera» (The challenges of the young Matanzas narrative). Guests: Náthaly Hernández, Luis Enrique Mirambert, Guillermo Carmona and Raúl Piad. The moderator will be Boris Luis Alonso.
«There will also be a presentation of the book «Donde van a morir las mariposas», by Yanira Marimón, by Patricia Mesa. And a poetry reading with guest Lorelisette García. This will be followed by the presentation of the book «La hora violeta», by Náthaly Hernández Chávez, by Alfredo Zaldívar».
The program continues with a colloquium entitled «Azares del Arquero», dedicated precisely to the director of Matanzas editions, the writer and cultural promoter Alfredo Zaldívar, who for eight years directed Aldabón. Derbys Domínguez, Pablo G. Lleonart and Maylan Álvarez will participate with the moderator Daniel Cruz Bermúdez.
The day ends with the presentation of the Aldabón Awards in the narrative genre and the Award of Honor to Alfredo Zaldívar, in addition to the awarding of the La calle de Rimbaud prizes.
The organizing committee of this literary event is chaired by Yadiel Durán Bencosme, president of the AHS in Matanzas; the production is by Yudenys Polledo Núñez; general coordinator: Daniel Cruz Bermúdez; general promotion, Pablo G. Lleonart and the design is by Johann E. Trujillo, with the sponsorship of the Provincial Center of the Book and Literature.
The young writers will be in high spirits these days with the Aldabón award, a contest that on its 25th anniversary, enhances this publishing house, which promotes the youth movement in the province and the country.
Written by María Elena Bayón