Brazil leaves Cuba without options in the Pan American Baseball Championship.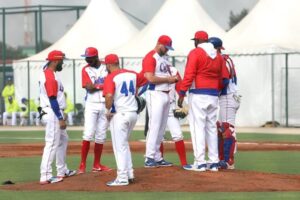 Yesterday morning Cuba was defeated 4-2 against Brazil in the Pan American Games of Santiago de Chile 2023, leaving Cuba with no options to qualify to the next round.
This match was the second defeat of the team in the Pan American Games, leaving doubts again in tournaments of higher level.
The Cuban offense was once again weak at the least indicated moment, with only three hits in the entire game, not enough to hurt the Brazilians.
It is worth mentioning the work of right-hander Raymond Figueredo who was able to contain the Carioca offense when the relievers Casanova and Rivero were ineffective in the fourth chapter.
It is questionable the offensive move of the Cuban coaching staff to keep Mujica, evidently injured, with the possibility of a tie in circulation in the last inning.
A fourth place in the World Baseball Classic is worthless if we are defeated in the Pan American Games against Brazil, which, without detracting from its undefeated performance in the tournament, is a country with no baseball tradition.
Written by Alejandro López Quintero.