18 years after Sunwing's first flight to Varadero.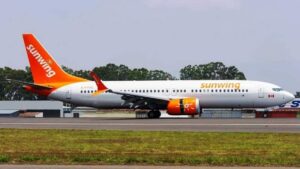 On a day like today, 18 years ago, Sunwing airlines landed for the first time on the runways of the Juan Gualberto Gómez International Airport, the terminal through which the largest number of foreign vacationers arriving to the beach resort of Varadero stay in Cuba's main sun and beach enclave.
«Cuba has been an integral part of our operations since the first inaugural flight that took off from Toronto to Varadero in 2005,» said executives on Sunwing Vacation's Facebook page. In this social network they acknowledged that «our Cuba program has continued to grow since then and has been one of our most popular destinations over the last decades».
Precisely on this day, another flight of the Canadian airline arrived at the well-known Varadero airport, and its crew and passengers were surprised by the warm welcome given by executives and workers of the Matanzas airfield, grateful for the preference for the famous Playa Azul, an affection demonstrated by the hundreds of tourists brought in almost 20 years to the Matanzas leisure destination.
Canada is the largest tourist destination to Varadero, a large number of which are transported by the northern airline, the one with the highest frequency of flights to Juan Gualberto Gomez, as evidenced this season of increased tourism, where it has notorious prominence in the air platform of the Matanzas terminal, the second most important in the country.
Right in Varadero, where the second best beach in the world is located, are located several of the hotels suggested to Canadians by Sunwing Vacation, among which stand out Royalton Hicacos Resort and Spa, Meliá Las Américas Golf and Beach Resort and Iberostar Selección Varadero.
Written by Eva Luna Acosta Armiñán.