Brilliant literary closing of the 25th National Festival of the FEU in Matanzas.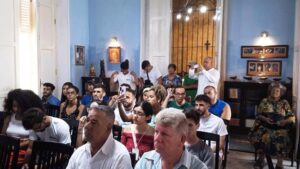 The National Poetry Prize, organized by the Pablo Neruda literary workshop of the University of Matanzas, was jointly awarded to the works Error 403, by Armando Suarez Jarosay, and Carta conclusa, by Noel Sanchez Garcia, in a ceremony before a group of writers participating in the 25th Festival of Amateur Artists of the FEU, gathered at the house of the poet Carilda Oliver Labra.
The jury, composed of poets Loreley Rebull, Luis Lexandel Pita and José Manuel Espino, catalogued Suárez Jarosay's work as «exceptional and vertiginous in its approach to current youth codes from a structure such as the tenth, which somehow loses with this author its concept of closed stanza, to be perceived as a poetic exercise of absolute freedom».
As for that of Sánchez García, they valued in the poem «the purity of the décimas, which maintain a classical level in dialogue with contemporaneity, informal work and at the same time rooted, forceful in its designs.»
Likewise, they conferred mentions to the texts Voces grisáceas, by Katia Roche Guerrero and Última brizna de viveza, by Marian Zaldívar Aguilera.
Carlos Chacón, coordinator of Yumurino's literary workshop, spoke of the importance of keeping the writers' movement active in university classrooms and urged young people to participate in this event every year.
The university students toured the premises of the Tirry 81 mansion accompanied by Efrahím Pérez Izquierdo, director of the Provincial Center of Books and Literature; José M. Espino, president of UNEAC Matanzas; specialists of the National Center of Culture Houses and the host Raidel Hernández, who, in recalling Carilda, pointed out the essence of the project Al sur de mi garganta, based on the gift of cultural promoter who was a palpitating cultural promoter in the National Literature Prize winner, whose house was open to the world.
The beautiful room that holds Carilda's funeral also served to announce in detail the winners of the 25th Festival of Amateur Artists in Literature.
Among more than 200 works submitted, the jury, composed of writers of various genres, chose 32 finalists and awarded eight bronze medals, six silver medals and six gold medals.
The Grand Prizes, awarded during the closing Gala at the Sauto Theater, National Monument, went to Juego de roles, by Mariam Zaldívar Aguilera; Gramática libre de contexto, by Sheila Leyva Sánchez; and Candil milenario, by Ángel Sierra Castillo.
Brilliant literary closing of the 25th National Festival of Amateur Artists of the FEU, held in this city of Matanzas, which welcomed them in its warm arms.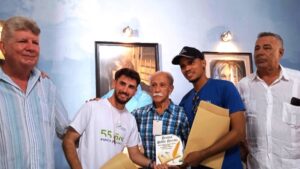 Written by María Elena Bayón.