Lázaro Contreras, ballplayer from cap to spikes.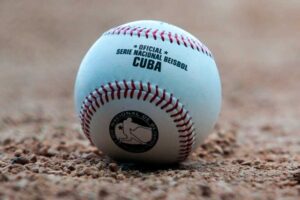 I have seen many players in our National Baseball Series, that although their performance on the field was not bad, during several seasons they were quickly forgotten by the fans.
Others, with less time representing their province, are eternally remembered. This is the case of Lázaro Contreras López.
Contreras was born on August 26th, 1962, in the town of Carlos Rojas, municipality of Jovellanos and died in Havana on June 7th, 1986, 37 years ago  due to burns received, a few days before,  motivated by his wife's passionate jealousy.
For those who didn't know him, Lazaro was what they call these days a «five-tool player». Excellent runner, touch and power hitter at the same time, great fielder in center field and with a powerful arm. Always happy in the field. He played with Henequeneros in the national championships and with Matanzas, in the Selectives.
He was very combative on the field and an example for his teammates. He was what is called a team man, something that Matanzas lacked for many years.
According to Frank Carbot, a neighbor of the neighborhood and teammate in some National Series teams, Contreras was above all a great friend, a great person, on the field he was an example to follow who commanded respect, very handsome.
«On one occasion, Carbot recalled, the outstanding pitcher Rogelio García, from Pinar del Río, in a jarana tone approached the Henequeneros boys in the dining room and said that today he had only three hits for them, let's see how they would distribute them, to which Contreras replied that he was only going to give them three. And he did indeed hit three doubles in the game.
Lázaro Contreras participated in six national championships and in the same number of selective tournaments.
His debut was in the 1980-81 campaign, in which he averaged 287, in 51 games played; in the Seventh Selective Series, he also averaged 287, which was his first, but after that, he already exhibited averages over the 300 mark, which made him one of the most followed youngsters by the fans, not only in Matanzas, but also in the rest of the country.
In the defense of the center field, he was spectacular. I remember a game played at the Alfredo Echeverría stadium, in Agramante in the municipality of Jagüey Grande, between Henequeneros and Cienfuegos, in 1983, when I narrated with the late Ricardo Medina, on Radio 26, a throw from 390 feet to home plate in which he put out the runner who was running from third.
In his own game, two innings after the throw to the rubber, Contreras, with a feline gesture, climbed the fence between center and left between left and center field and took a home run away from the great Pedro José
Rodriguez. Something sensational.
After a good performance in the 1983-1984 season, including the Selective, according to researcher Fernando Rodriguez he made it to the national pre-selection and participated in a series of three games in Panama and in a Triangular Tournament in Nicaragua. He attended the Second José Antonio Huelga International Tournament, held in Villa Clara, where he finished as batting leader with 458, tied with Fernando Hernández, in addition to leading in hits, doubles and bases on balls.
International work
Shortly after, he was eliminated in the last cut of the Cuba team to the World Cup in Havana, held in October 1984.
He attended with Cuba A to the Third Strike, held in the province of Matanzas where he did not open as a starter, but when he hit the decisive home run by Alberto Martinez, with one in circulation against Venezuela
they could not sit him any longer. That year he had another superb performance in a tour of Mexico, in front of professional players, and he attended the Palm Spring Tournament.
In 1985 he competed in the Simón Bolívar Pan American Cup, in the Confraternity Meteor and in the Intercontinental Cup of that year. His last presentation with the Cuban national team would be the tour of Japan, in 1986, in which he was the Most Valuable Player of the Tournament.
Thirty-seven years after his death, he is remembered as the first day he took the field at the Victoria de Girón. Perhaps many of his followers still see him catching a fly in center field or connecting one of his lines to decide a game.one of his lines to decide a game.
For his feats in so few years, Lázaro Contreras López is one of the legends of Cuban baseball.
Written by Francisco Soriano Bermúdez.