Recognition awarded for meritorious environmental efforts.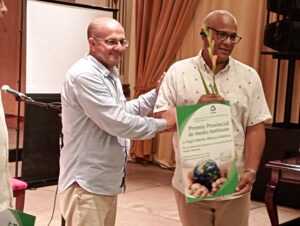 The Provincial Environment Award was granted this Friday to Doctor of Science Ángel Alberto Alfonso Martínez in a ceremony held at the José White Concert Hall.
This outstanding professional dedicated his life to the formation of new generations and to the protection of the environment in the province of Matanzas and in Cuba.
He alluded to the challenge that exists today in the province in the agricultural sector and how individual producers carry out hard work in food production, despite the shortage of fertilizers, which they replace with organic fertilizers to move forward in production.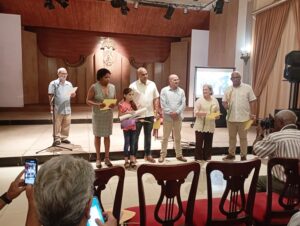 The cultural institution also hosted the presentation of other awards and recognitions to individuals and entities for their outstanding work and actions aimed at protecting the environment, on the occasion of the 50th anniversary of World Environment Day.
Among the award winners was Dadgmaris Bruffau Vallas, quality and public relations specialist of the Unidad Empresarial de Base Extrahotelera Plaza Oasis, who received the Territorial Environmental Recognition for her work in these areas and results.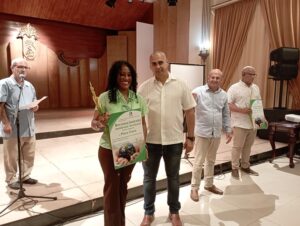 In addition, during the meeting, the Environmental Services Center, the Provincial Directorate of Soils and the Agroforestry Company of Matanzas were awarded for their performance and compliance with the environmental legislation in force.
At the end of the event, the Master of Science Oscar Luis García Martínez, delegate of the Ministry of Science, Technology and Environment in the province, highlighted the joint work of the workers of different entities of the province that contribute to improve environmental health.
Written by Leydis Hernández Pelier.