Lights from Roc Arenas Doradas Hotel.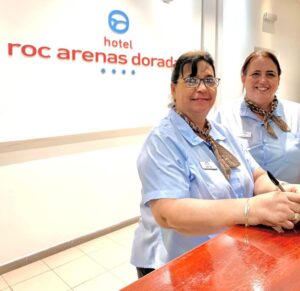 The Roc Arenas Doradas Hotel was very close to obtaining the top category of Vanguardia Nacional, after a previous year in which it was among the most successful facilities in Varadero.
«We came out as National Efficient, a condition granted by the Union of Hotel and Tourism Workers,» says a pleased Jesús Madem Machado, secretary of the Union Bureau at the hotel of the Gran Caribe chain.
«In 2023 we are on the way to consolidate economic and union results, as well as on other fronts such as blood donations. We have no doubt that greater results are in store for us,» he predicts.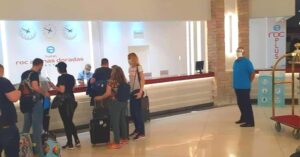 If anyone is convinced of this, it is Mexican businessman Vladimir Martínez García Cano, director of this Roc: «The quality of our personnel distinguishes our operations. Thanks to them we have excellent comments on TrypAdvisor, the world's largest travel website where we are well positioned among those of this brand and the intention is to continue improving».
According to Martinez, the Canadian, German and Russian markets dominate stays at this Roc Arenas Doradas and raise occupancy, among other international emissions, and the domestic market, which contributes approximately 30 percent of stays.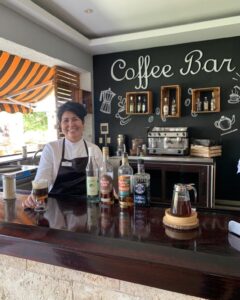 In order to continue improving the hotel's attractions, investments have been made, including the construction of a ranchón, a farmer's house, while improving the comfort of rooms and other areas in order to improve the brand's image.
«We are trying to do new things, to go to the forefront, to increase the taste for a hotel that has made a name for itself in foreign markets and, as we have already said, also among Cubans. That pleases and encourages us.
The Mexican businessman added that «with the changes we are making in management, in the area of investments and services, we will be well positioned in social networks and in the hearts of our clients».
Martínez described Roc as a solid, strong chain and «that is what we are transmitting to tourists, that they feel kindness and courtesy, something that is much sought after in the hotel industry. There are hotels with a lot of brand names, but the service is cold. Not at Roc, because we are identified by the warmth of the staff towards the guest».
This all-inclusive four-star hotel is designed for families, who will be able to enjoy its services, impressive architecture and especially the privilege of its beachfront location.
Photos: From the Roc Arenas Doradas facebook account.
Written by Eva Luna Acosta Armiñán.