«(…) I love literature above all» (+ audios).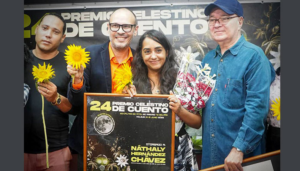 Náthaly Hernández Chávez was born to write. This is reaffirmed by her dedication in front of the blank page, the fact that she has chosen journalism as her professional base.
It is also confirmed by the awards she has won, which, although they do not validate a writer in her opinion, place her among the young voices that are beginning to be heard with strength in the national literary panorama.
The most recent, the Celestino de Cuento, came to her at the beginning of this month. «I was motivated to participate not only by the idea of winning a prestigious contest but, above all, by the possibility that La figura en el puente, the text that won the award, will be published by Ediciones La Luz, one of the best publishing houses in Cuba and one that is doing an excellent job, both in the creation and promotion of its books».
You notice that infinite love and the enjoyment she gets from weaving a story, weaving words into a poem, too, from the moment you hear her talk about her passion for the writing process, her devotion to reading and her inclination for science fiction after dabbling, with equal ease and pleasure, in poetry.
«The genre depends on the ideas that come to you, on the forms of expression that are so many. I really enjoy writing both poetry and narrative.
«As for the narrative I do not like to limit myself by the fact that there are stories that sound better and are better told and make more sense from certain codes such as those of fantasy and science fiction while there are others that need to be told from realism.
«It's not that a story can't be versioned in all these ways. What I mean is that there are many ways to express literature and I love literature in any of its forms, I love to write.
«I enjoy those genres and learning because writing each one takes work, effort, learning how they are done. I have enjoyed the process of learning all those genres, so far and all that I have yet to learn because you learn by doing.»
…ONLINE AUDIO
In spite of her achievements during her young career as a writer, who has become editor of Ediciones Matanzas, Náthaly moves away from her comfort zones to launch herself into the void of probabilities, into the adventure of the new, and is not satisfied with what has been practiced, but is devoted to a permanent search for new ways of saying, for the ever-renewed essence of the lyrical subject that inhabits her lyrics.
«Other characteristics of my work as a writer are the constant practice, the constant study to improve; I am always looking for new ways, strengthening my own voice, approaching genres and subgenres, experimenting how I am doing in them, sometimes better, sometimes worse, learning from mistakes.
«On the other hand, the interweaving of genres. I like to incorporate poetic elements within narrative, narrative elements within poetry. So, without completely blurring the forms of each genre, I like to do one within the other and bring a bit of one to the other.»
…ONLINE AUDIO
She ratifies it once again. Náthaly Hernández Chávez, who is also a teacher and a tireless promoter, was born to water us those fabulous worlds that from her mind her hands draw, those verses that bathed in fiction return us to the closest everyday life and to the narratives that with rhymes populated with different universes inscribe her among the best of today's young writers in Cuba.
«I am currently working on unpublished texts, both narrative and poetry, looking for inspiration, stories, images everywhere, taking from reality and from my own reality. Loving literature, above all».
There is no longer an ounce of doubt. Náthaly was born to write, not just to win a prize, a recognized prize, or two, or 100. She was born to write because her days are not complete without literature.
Written by Jessica Mesa Duarte.