Rice production: A priority in Pedro Betancourt.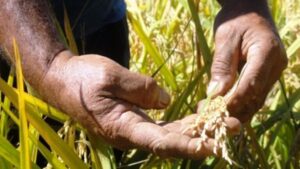 As part of the Municipal Strategy for Economic, Social and Political-Ideological Development of the municipality, the Rice Program has become one of the priorities of the highest local authorities to ensure the nutrition of the people living here.
Although the territory is recognized for its enormous contributions to the country's rice production, the shortage of inputs and fuel considerably undermines the favorable indicators that in previous years the locality registered. In this regard, we talked to Erwys Souza González, a rice specialist in the town.
…ONLINE AUDIO
Likewise, Oslay Díaz Pagés, deputy superintendent of food of the Pedro Betancourt municipality, described some of the main initiatives implemented to solve this complex situation.
…ONLINE AUDIO
LOW PRODUCTION VS. HIGH PRICES
Speculative prices which, as a result of the decrease in rice production indicators, have a negative impact on the consumers' economy, are also among the main concerns of Betancourt authorities.
On this subject we talked to Yaneisy Valdespino Arbolaes, municipal vice-president of Economy and Defense, who pointed out the strategies implemented by the locality to control this situation.
…ONLINE AUDIO
Likewise, Oslay Diaz Pagés, Vice Superintendent of Food, emphasized those actions that, from the top management of the territory, fight crime, illegalities and abusive prices.
…ONLINE AUDIO
Rice is one of the most demanded foods by the Cuban population. However, the municipality of Pedro Betancourt still struggles with several problems that threaten the cereal's production rates.
Fuel shortages, lack of inputs, the need for a technological package, limitations in terms of fertilizers, pesticides, spare parts and land preparation equipment, the poor condition of the roads, as well as low rainfall are some of the main detractors. About these problems Erwys Souza Gonzalez, Rice specialist in the territory explained:
…ONLINE AUDIO
Likewise, Oslay Díaz Pagés, local deputy superintendent of Alimentos, described the initiatives of the highest territorial management to face the current complex situation.
…ONLINE AUDIO
The joint work between science, technology and innovation based on agro-ecological knowledge and nutritional sovereignty and education will contribute to increase yields, replace imports, boost municipal self-sufficiency and, above all, guarantee the presence of rice in every house.
Written by Yadiel Barbón Salgado.