Recent hits from Teatro de las Estaciones .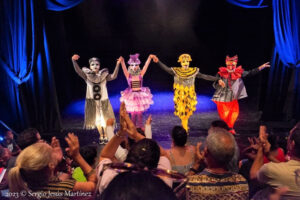 It is edifying to compile the most relevant things that have happened in recent months to Rubén Darío Salazar, Zenén Calero Medina and Teatro de las Estaciones.
One of the main ones is the recent awarding of the status of Maestro de Juventudes to both of them, granted by the Hermanos Saíz Association in view of their growing teaching work in the training of actors and visual artists.
In addition to this is the announcement of the dedication of the next International Book Fair in Matanzas to the distinguished puppetry group, shared with the children's writer José Manuel Espino.
In this regard, Ruben expressed his satisfaction for the symbiosis, since «to see Espino in a workshop interacting with children, is to see themselves representing the scenic stories that for almost 30 years have disturbed the imaginary of Teatro de Las Estaciones».
In the summer, the news was the premiere of the play «Carnaval» at the Pepe Camejo theater, whose repercussion launched them on a successful tour of Europe, with stays in nine cities in France and two in Sweden.
Musical divertimento, which incorporated the score of The Carnival of the Animals by the romantic composer Camille Saint Saëns, and the performance of a first-rate cast, including María Laura Germán, Iván García, Yadiel Durán, choreographer at the same time, and Darío Salazar himself.
The director of Estaciones and Guiñol Nacional described it as a fantasy of love for actors and figures in lonely times, embellished by the scenic design of an overflowing Zenén, both in the visual conception of the characters and in the lighting effects.
To this is added, the continuation, on Cuban television, in a classic saga, of the thirteenth season of the musical program for children «Corazón feliz», in a joint work of Estaciones with the Cuban singer and composer Rochy Ameneiro, for the intentional highlighting of the very Cuban character Pelusín del Monte.
The news is that for these months of the end of the year it is already known that the fourteenth season of «Corazón feliz» with Teatro de las Estaciones and outstanding national actors, is about to be released, dedicated to different trades. It will be broadcast by Cubavisión on Saturdays at 10:15 in the morning and Mondays at 5:30 in the afternoon.
Tireless matanceros theaters, countless triumphs for the pride of the Athens of Cuba.