The Power of the Word: Oral Storytelling Workshop.
Imagining and telling stories, flying through time, embracing through words those who love and listen to them, these are the gifts possessed by oral storytellers, who celebrate their annual Festival-Workshop, held at the headquarters of the National Union of Writers and Artists of Cuba (UNEAC) in Matanzas.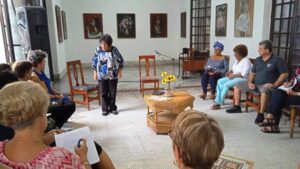 The meeting is headed by artists in that specialty such as Loreley Rebull, Mamita de León and Ileana Hernández, who on this occasion convened special participants in three working sessions.
«We are happy because we gave the workshop to librarians of educational centers in the province. Many schools have shown up. We set out to demonstrate the power of public speaking and they are offered the precise tools so that they can version the stories and then tell them, explains Mamita de León.
«It is very useful for the performance of their work, because from this knowledge their work will be more beautiful,» she adds.
One of the exercises consists of developing ideas based on some suggestive word. On the relevance of the skills motivational workshop, Loreley Rebull points out: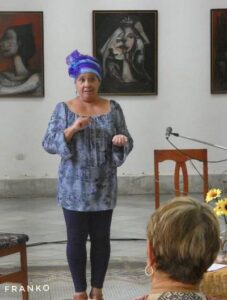 «These workshops expose the power of the word, effective, that helps or destroys. The narrator uses it to create in the place where it arrives an atmosphere of joy or reflection and we fight for the best of concepts: the happiness of the human being.»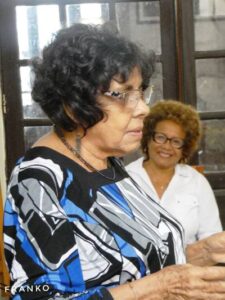 In the afternoons, participants go to educational centers to tell legends, experiences or classic texts that emphasize human values.
About what will happen on Wednesday at the closing session, Ileana Hernandez points out that during the workshop, some participants will be selected to make their stories, taking into account the elements of this genre and prepare them to be enjoyed or taught.
«Then, the three of us will perform a demonstration show with texts referring to love, which will allow the link with the attendees and will be extended to their collectives to carry out creative activities with the readers of the libraries, she emphasized.
«In the afternoon, at the Peña Te Conté, of the UNEAC, those present and the people who attend this monthly exchange, so pleasant, this time to celebrate the 330th anniversary of this beloved city, will attend.
«As part of the essences of our identity, we invite the group Los Muñequitos de Matanzas to close with their contagious and joyful rhythm, this workshop that makes us live such pleasant moments.»
It is evident the usefulness of this Festival-Workshop of Oral Narration to encourage the increase of reading habits among Matanzas students and also as a way that favors the development of this modality of the performing arts in the province.
Written by María Elena Bayón.