White and La Bella Cubana Awards Gala in Matanzas (+photos)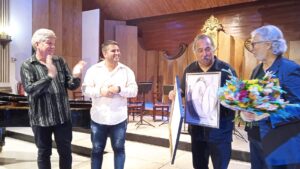 The White 2023 Lifetime Achievement Award, granted by the Association of Musicians of the UNEAC in Matanzas, went to Matanzas symphony orchestra conductor and violinist Enrique Pérez Mesa, in a gala staged at the José White Concert Hall and with the stellar performance of maestro Frank Fernández.
Pérez Mesa is the chief conductor of the National Symphony Orchestra and has a relevant trajectory in the Matanzas Symphony Orchestra and other equally important national and international groups.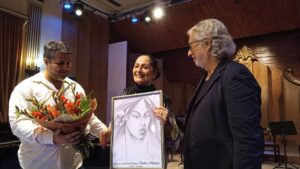 Likewise, the Special Award La bella cubana was conferred to the stellar singer and composer Beatriz Márquez, who has been widely present in the musical nights of Yumurina for many years and with a grandiose career within the Cuban musical universe.
The ceremony was attended by Susely Morfa, first secretary of the Party and Governor Mario Sabines, together with Osbel Marrero, provincial director of Culture and José Manuel Espino, president of the UNEAC branch, who presented works by artist Sergio Roque to the congratulants.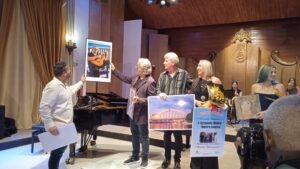 Among these, the group Nuestra America, on its 50th anniversary, a bastion of the new trova and promoter of Cuban genres in various stages in Cuba and abroad, which was received by its founding director Luis Llaguno, accompanied by Loly Mar and other members of the prestigious group.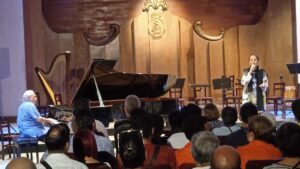 Maestro Frank Fernandez, described as «divine» for his high artistic spirituality, tireless follower and patron of music and its performers in Matanzas for several decades, was also recognized.
During the show, of refined artistic conception, directed by Alfonso Llorens and conducted by Leonel Esquivel, the José White Camerata, under the baton of maestro Bienvenido Quintana; the soprano Lucelsy Fernández, accompanied by the Camerata and the renowned pianist Roldany Hernández, as well as the chamber group of soprano Vanessa Herrera performed.
The closing of the gala became an unstoppable ovation when maestro Frank Fernández performed his version of «Ave María» and invited Beatriz to sing the anthological piece «Vieja luna», to conclude with the well-liked «Tema de Amor», from the soap opera «Tierra brava», in a duet with the youngest instrumentalist of the National Symphony, violinist José Fernando Sánchez Soler, in a kind of sortilege, an indicator of the perpetuity of Cuban music through the ages.
Written by María Elena Bayón