Debate on Economics, Globalization and Development Issues.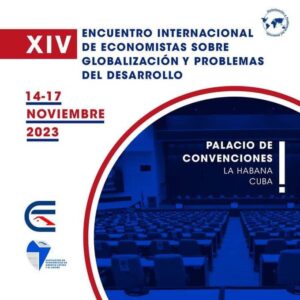 More than 500 delegates and guests, among them representatives from 31 countries, will participate from today in the XIV International Meeting of Economists on Globalization and Development Problems, which will be held at the Palacio de Convenciones until the 17th.
During the four days, prestigious academics, researchers, professionals and officials will analyze the challenges of the world in an event whose last edition was held in Panama in 2015 and will be resumed after the serious impact of the Covid-19, and in a complex context, characterized by the Russia-Ukraine conflict and the Israeli aggression against the Palestinian people.
According to a press conference, Commander-in-Chief Fidel Castro, the main architect of these meetings, which began in 1999, will dedicate the 2023 event, said Oscar Luis Hung Pentón, president of the National Association of Economists and Accountants of Cuba and of the Organizing Commission.
Challenges of the international economy in times of crisis, multilateralism from its different visions, economic globalization, international trade, trends in monetary-financial relations and international flows, are the topics that will be discussed in 18 commissions.
The agenda of this edition also raises expectations due to the announcement of a student forum, the exhibition fair For a sustainable development (of MSMEs and companies), and visits to centers of socio-cultural interest, organizations, institutions and economic entities and book sales.
In pursuit of greater foreign participation, the event will also be held virtually, a meeting that has been said to have the financial and resource support of institutions such as Esicuba, and other sponsors such as the new economic actors.
Written by Eva Luna Acosta Armiñán.