CIGB: At the Service of Cuban Science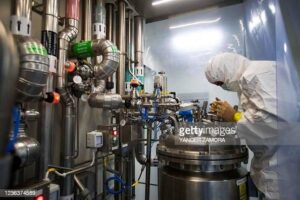 The Center for Genetic Engineering and Biotechnology is one of the most emblematic and prestigious institutions of our country and this 2023 adds another year to its outstanding trajectory in the biological and scientific-technical universe of the nation.
Founded on July 1st, 1986 thanks to our Commander in Chief Fidel Castro Ruz, the Center is a research-productive complex equipped with state-of-the-art equipment, large production capacities and an extraordinary staff, as well as an outstanding journey that makes it a national and international reference for its numerous research results.
It works with genetic engineering as the essence for the creation of new products, based on social responsibility, environmental protection and human safety criteria, carrying out an extensive risk assessment and following the biosafety guidelines and measures in force.
In addition, its branches include biomedicine, focused on research and development of vaccines and biopharmaceuticals; animal biotechnology for veterinary use, as well as plant biotechnology, with emphasis on genetic transformation and development of systems for the control of pests and phytopathogenic agents.
Its leading product is Heberprot-P, created by Jorge Berlanga Acosta and recognized for being fundamental in the treatment of Diabetic Foot Ulcer. Its most recent achievements also include HeberFERON, Proctokinase and HeberNasvac, used to combat basal cell carcinoma, acute hemorrhoids and chronic Hepatitis B, respectively.
Likewise, they work in the development of agricultural biotechnology with products such as the bionematicide HeberNem, the immunogen Gavac and also boast recognition for recombinant interferon Alpha and Gamma, recombinant streptokinase, several diagnostic kits and the recombinant vaccine against bovine ticks.
And not to be ignored is the fact that last May 25, 2021 the center received the status of National Vanguard, by the Central de Trabajadores de Cuba, due to its work in the period and the delivery of biotechnological products, vaccines and medicines in the fight against the COVID-19 pandemic, with Abdala, Soberana 02 and Soberana Plus as its star products in the battle against the disease.
Likewise, the institution intends to make its way into the market of developed countries, foreseeing that as this goal is reached, its productions can be exported and, consequently, become a source of wealth for the national economy.
Undoubtedly, since its foundation, the Center for Genetic Engineering and Biotechnology of Cuba has become the largest scientific investment made in the country, the first to combine the functions of research, production and commercialization through modern biotechnology with substantial contributions to sovereignty and import substitution and always honored by the hard work, professionalism and potential of its team at the service of Antillean scientific development.
Written by Yadiel Barbón Salgado.