Two heroines of the Revolution: Lidia Doce and Clodomira Acosta.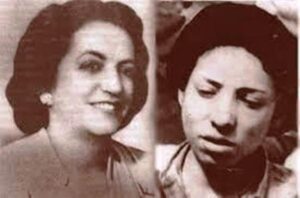 Meanwhile, Clodomira Acosta Ferrales was a fighter of the 26th of July Movement against the dictatorship of Fulgencio Batista and worked as a messenger in Column №. 1 of the First Eastern Front in the Rebel Army.
Although Lidia and Clodomira were very different ages and had led different lives, they found themselves united by the struggle for justice and freedom of the Homeland.
They risked their lives daily to achieve the triumph of the Revolution, a sign of the firmness of their principles in the face of any obstacle from the enemy. Fidel Castro and Che put their full confidence in these women, who showed their devotion from the beginning.
Their loyalty to the Revolution led them to offer their lives on September 17th  without revealing a name or an address that would endanger the lives of their comrades, nor the plans of the revolutionary movement, which turned them into heroines, after one of the greatest acts of cruelty of the Batista dictatorship in its last months.
Through a betrayal, Lidia and Clodomira were surprised on the night of September 12th, 1958 by Batista's police while they were in the house of a combatant in hiding on a mission in Havana.
There they witnessed the brutal beating and machine-gunning of young Alberto Alvarez, 21; Leonardo Valdes, 23; Onelio Dampiel, 22; and Reinaldo Cruz, 20. They rushed at the assassins, but they dragged them out of the building and immediately transferred them to a Police Station.
The brave women had a long pilgrimage from one police station to another, until Colonel Emilio Laurent, seeing that they did not speak and were already dying, put them in a boat in La Puntilla, at the bottom of the castle of La Chorrera, and in sacks with stones they submerged them and pulled them out of the water many times without any result, until Laurent himself released them into the sea.
Referring to them, Fidel said: «Heroic women… Clodomira was a humble young woman of intelligence and courage to the test, together with Lidia, tortured and murdered, but without revealing a single secret or saying a word to the enemy».
On this 65th anniversary of their assassination they receive the homage of the Cuban people whom they represented with dignity and for whom they stood firm until death.
written by Caludia Ortega Valido.