The press does its part for food production.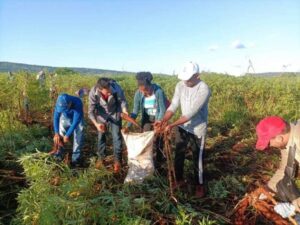 Journalists from several press media participated this Sunday in a productive work, the first of the activities conceived on the eve of the final sessions of the XI Congress of the Union of Journalists of Cuba (UPEC), to be held in Havana on November 2nd and 3rd.
Part of the delegation that will represent Matanzas in the congress, went today to the meeting in the Basic Unit of Cooperative Production (UBPC) Ceiba Mocha, along with companies, agencies and mass organizations; contribution that was made possible thanks to the support of the machine two, managed by Rafael Remedio.
According to Remedio, cassava was harvested from the three hectares planted more than ten months ago in that area precisely during another productive work called by the Cuba Trade Worker Union in Matanzas.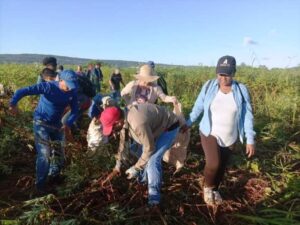 «Many of those who planted them that day have now come to take them out. I thank them for the help despite the bad conditions of the field, since the mud reaches almost to the chest, as we guajiros say, we worked well and efficiently», Remedio acknowledged.
The more than 36 tons of cassava will be distributed immediately in the network of agricultural markets of the city of Matanzas, establishments accustomed to receive merchandise from Ceiba Mocha; the UBPC that left behind the period of economic losses to live a moment where the income is higher than the expenses.
Pedro Rizo Martinez, president of the Matanzas branch of UPEC, thanked the presence of executives and colleagues from all the media, especially TV Yumurí, Radio 26 and National Media, with a greater representation in this call.
Rizo Martinez advanced some of the points of an inclusive program of meeting with the grassroots delegations to check, among other aspects, the status of the agreements of the XI Congress assemblies, meetings that he described as strategic and that demand the largest possible attendance, as they will examine aspects of the membership.
The activities planned for the following days prior to the congress include exchanges with the main political and governmental authorities of the province, tours of entities involved in the production of goods and services, an agricultural and livestock fair, among other initiatives.
Written by Eva Luna Acosta Armiñán.