Artist Lorenzo Padilla and his gift to Matanzas.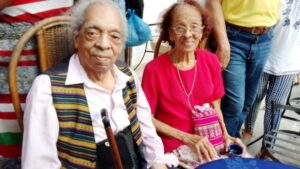 «In spite of being abroad for many years, Matanzas is of great importance to me,» confessed artist Lorenzo Padilla in a moment of sensitivity before the audience at the UNEAC's social house, during the space Café Mezcla'o, conducted by Alfredo Zaldívar Muñoa.
Indeed, the visual artist Lorenzo Padilla is blessed by the Greek muse Kora and the orishas of the Yoruba pantheon; Lorenzo Padilla the collector, donor of the fifth best collection in the world specialized in African art, is embraced by Matanzas, his hometown, to whom he has given a huge patrimonial fortune.
Tribute was paid to this painter and sculptor who was born in 1931. Those who know his family of yesteryear remember that his childhood home was located on Zaragoza Street, between Santa Isabel and Salamanca, very close to the Estero and Pompón, the limpid spring that flows into the Yumurí River.
The virtuoso is 92 years old and has lived more than three decades, first in Spain and then in France, settled in the Parisian squares until he created a Foundation. During that stay, he even bought more than 500 African pieces, worth millions of dollars, which are exhibited at the Museum of Art, founded in his honor in 1998 in Cuba's Athens and which today also bears his name.
Zaldívar, National Publishing Award winner and renowned writer and promoter, invited singer Olga Margarita Muñoz, guitarist Mayito Guerrero and young cellist Dayrán Mirabal, who performed Lorenzo's favorite song, the famous La vie en rose, writer and oral storyteller Cecilia Soto, as well as other creators who wanted to pay tribute to the important painter, to the stage of La fuente de Vulcano courtyard.
Also, the director of Ediciones Matanzas and Casa de las Letras Digdora Alonso, gave the floor to the specialist and chief curator of the Art Museum, Yamira Gordillo, who pointed out details of his pictorial evolution and informed that in recent days the master donated to the museum the last five pieces of his private collection, a heritage that he gives in love to his native community.
«The gratitude of the people of Matanzas should transcend the present time, Yamira pointed out, because what was donated is of incalculable spiritual and material wealth, as are the engravings also offered to the museum institution».
At the time of the interview, conducted by Maylan Alvarez, we got to know interiorities of her life, immersed in a wealth of feelings:
«I lived 37 years abroad. I came to speak French better than Spanish, however, I came back. My painting reflects me as a person. I don't know how to do anything else but paint».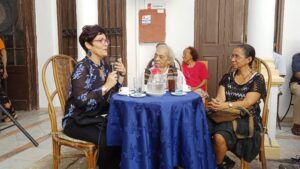 Although, Maylan told him, he was also dominated by a passion for collecting.
«The collection of African art I got little by little. Every time I sold a painting, I bought one or two pieces, so I was collecting and I only thought of Matanzas. I didn't want to leave it somewhere else, I wanted to give this gift to my hometown… My illusion was to be able to open a museum with those works and they listened to me and it exists with valuable creations of universal, national art and of this land, together with my special collection as a tribute to our roots.»
The afternoon served as a welcome for a guest from Canada, the writer Lucielle Lachapelle, who accompanied by the young Náthaly Hernández, talked about her literary work and thanked the attentions received during her stay in this city, as part of an institutional agreement.
Present at the reception were José Manuel Espino, president of UNEAC; and the directors Marislay Martínez Junco, of the Provincial Center for the Visual Arts; Raúl Molina, of the Lorenzo Padilla Art Museum and Frank Santana, of the José Jacinto Milanés Promotion Center; in addition to friends, colleagues and personalities, among them, also the nonagenarian singer Anneris Cánovas.
An afternoon of tribute to the tenacious artist who continues to paint in his studio on Jovellanos Street abstractionist works that mark his stamp in this second decade of the 21st century.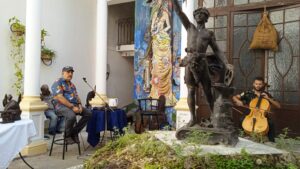 «Why have created a Museum of Arts in Matanzas?
«When I was a student I had to go to Havana to contemplate original works because there was no museum in Matanzas. Then I decided that if one day I could, I would create a museum in my hometown. That day came and then I was able to provide Matanzas with an art museum. I supplied it with my own creations and my personal collections.
«As for example, with 800 original engravings, of which some are Rembrandt and with the gifts that my painter friends that I have known throughout my life had given me. In addition, true to my origins, I also stocked the museum with original works of African art because I am very sensitive to Afro-Cuban culture.
«Matanzas is my hometown. It is beautiful and all blue. The bay of Matanzas is as big as the bay of Santiago de Cuba. Some great Cuban rhythms emerged in Matanzas: danzón, guaguancó, mambo as well….
«My dream for the museum would be to acquire a great internationally recognized work so that they come to admire it and on the same occasion admire the works of forgotten or unknown masters. I wish that   the Matanzas Museum becomes the largest in the world dedicated to the unknown or forgotten artists of the planet.»
«Why a Foundation now?
«I am going to die with a paintbrush in my hand, but waiting for my dearest wish: to help the deprived artists to develop their art. As a child, I suffered the lack… Then, I swore to myself that I would help the most deprived artists, mainly in Cuba, in France and abroad.
«Art is necessary in the world. The man who makes art or who is interested in it, does not make war. I am for the beauty of the world. I want war to stop. To love, not to hold grudges. Painting and art are made for others.
«Art allows to breathe and to bring people closer together. I was not lucky enough to launch myself with someone's help, so I want to give this opportunity to others. After the Cuban Revolution I got a scholarship from this same Revolution. I was a revolutionary of the first hour. I am and will always be a revolutionary, through the paintbrush, I want to help my country: it is my weapon.
«I also want Cuba to become an artistic reference in terms of painting. I want to make art available to everyone, to go and present exhibitions in the most remote places on the planet: art is for everyone. My grandson, David Padilla, and his wife, Marie, help me in this quest. They are very committed. So is my brother Pedro Padilla. I want to dedicate the strength of the foundation, as well as to Gracia, my late wife, my inspiration: I miss her so much, but she always remains in my heart.
What are my greatest references?
«The greatest for me is Diego Velázquez; he is the precursor of Impressionism, he has the brushstrokes of freedom. But there is also Goya, Greco, Turner, Monnet. My dream would be to be in the line of these great artists. I say this without pretension, I do not imitate anyone, I am inspired. I hope that one day they will speak of me as a great painter, but above all as a great benefactor.»
(Notes published on the website fondationlorenzopadilla.org)
Written by María Elena Bayón.