General Assembly rejects blockade of Cuba with 187 votes in favor.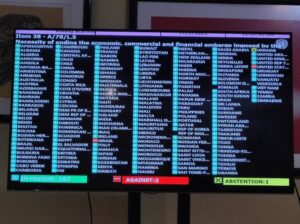 The resolution presented by Cuba to call for an end to the economic, commercial and financial blockade imposed by the United States was approved today by the General Assembly  of the United Nations with 187 votes in favor.
The text, supported for the thirty-first time, received two votes against (the United States and Israel) and one member state abstained (Ukraine).
The resolution recognizes the siege as the central element of U.S. policy toward Cuba for more than six decades.
Its effects have not ceased for a single day and are known by 80 percent of the island's population who only know one country with a blockade.
The damages caused by that policy between March 1st, 2022 and February 28th, 2023 amount to four thousand 867 million dollars.
Said figure reflects the intensification on Cuban exports, mainly in the tourism sector; the merciless persecution of the country's banking and financial operations; the costs due to the geographical relocation of trade; the effects on production and services to the population; as well as the obstacles to access advanced technologies.
In total, the economic damages based on current prices exceed 159,84.3 million dollars, and more than one trillion 337,000 taking into account the behavior of the dollar against the value of gold in the international market.
The effects of the compendium of measures exceed 405 million dollars a month, equivalent to one million dollars every two hours.
The report presented to the General Assembly by the UN Secretary General, António Guterres, recognizes the continuation of this policy against Cuba and its inclusion in the list of state sponsors of terrorism as actions incompatible with an international system based on law.
The actions of the United States are a flagrant manifestation of the exercise of political and economic power in clear violation of human rights, including access to development.
The effects of these provisions are as obvious as they are inadmissible under the Charter of the United Nations and the principles of international law, adds the text also made available to Member States.
According to the report, the situation of the Caribbean country only confirms the need to dismantle unilateral coercive measures, which undermine sovereign rights, the realization of human rights and the achievement of the Sustainable Development Goals.
The UN called on the signatory countries of the resolution to maintain efforts to put an end to the unjust denial of Cuba's right to self-determination and development.