People's Power delegates exchange opinions in Pedro Betancourt municipality(+audios)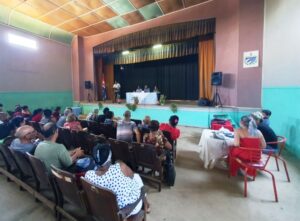 The highest political and governmental authorities of this municipality held the VI ordinary session of the Municipal Assembly of People's Power in its eighteenth term of office.
At the meeting, held at the Cuba Theater of this territory, important issues such as the approval of the budget and the economic plan for next year were analyzed, as well as the performance of the socioeconomic sectors in the stage and the fight against crime and illegalities, among other issues.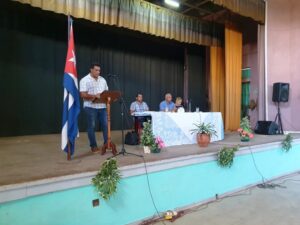 Mardiel Surí González, vice-president of the Municipal Assembly of People's Power, recognized the relevance of the meeting to analyze the main economic and social problems to be eradicated in the locality, as well as to guarantee the security and tranquility of the citizens with the revolutionary people's vigilance.
…ONLINE AUDIO
Likewise, in his closing remarks, Heldys Mederos Fiallo, member of the municipal bureau of the Party in the agro-food area, pondered the potential of the Betancourean territory and urged the linkage, exchange and participation of the people in each of the tasks.
…ONLINE AUDIO
Those present also praised the legacy of the martyrs who fell on July 30th, 1957 and, guided by their example, ratified their interest in materializing with their work the revolutionary project promoted by our Commander in Chief, Fidel Castro Ruz.
Written by Yadiel Barbón Salgado.