New digital self-service stations to be set up in Matanzas.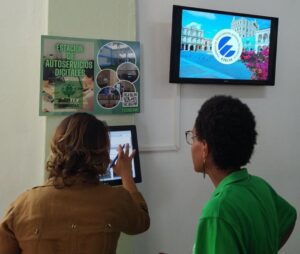 During the course of this month, new digital self-service branches will be opened in the Matanzas territories of Varadero, Cardenas, Boca de Camarioca and Santa Marta, in order to speed up online commerce and the management of procedures.
Lilian López Acuña, communicator of the Matanzas Scientific and Technological Park (PCTM), told the Cuban News Agency that the new technology will be available for people who do not have their own resources to use the online payment platforms Transfermóvil and Enzona, and to carry out procedures on the Internet, such as requesting documents, for example, the certificate of ownership and civil status.
The stations, which provide wifi connectivity, media and digital content to facilitate relations with authorities and service providers in the province of Matanzas and throughout Cuba, will mostly be located in the Youth Computer and Electronics Clubs.
She recalled that the Park has already carried out a campaign to instruct the resident population in the use of technologies, with the participation of university students as facilitators.
Kenia Viera Pacheco, director of research and development of the PCTM, mentioned that the facilities are part of the development of the Varadero: Digital City project.
The also leader of the initiative for the transformation of the Hicacos Peninsula into a smart destination, said that, as evidenced by the expansion of the network of self-service stations, its benefits transcend the borders of the renowned tourist destination.
At the University of Matanzas, headquarters of the PCTM, a digital self-service station has been operating for a year, the second of its kind in the country and the first in the province.
Written by ACN