Notes for a conflictual analysis of civil society-families in Cuban transition( part 2).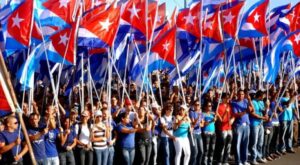 For the Cuban professor, Dr. Carlos Delgado, among the basic ideas of the conflict theory is the opposition to the functionalist idea that society is governed by social consensus; on the contrary, it is stated that in it the dominant groups coerce and pressure the rest and impose a certain order, so that the maintenance of social order is the result of threat, force and various forms of domination of some by others.
Those who hold political and economic power impose order.
It can be argued, when approaching the conflictuality in the civil society-families in the Cuban transitional stage to the present, that it corresponds to a typology of the socio-classist and political social conflict, by the illation between State-civil society-families in Cuba.
As conflict theories point towards the interior of societies, the structural framework that motivates the conflict related here comprises the following structure: actors, context, motives and development process.
In the real Cuba, the «informal» nature of the so-called private sphere, where friends and relatives interact, constitutes a source of alternative norms to the state and its institutions. These groups or clans of «associates», friends and relatives carry out black market transactions and facilitate all kinds of social practices resulting in «sociolismo», not socialism.
These networks form the infrastructure of a kind of «politics of affection», which develops around the contacts that one possesses, which people one appreciates and is based on personalisms, better understood, on individualisms.
Another cause of conflict that can be seen in Cuban civil society is the benefits, sometimes hidden, sometimes known, often commented on but not made known or not encouraged to be known by the top leadership of the Cuban Party, State and Government, are the undue benefits that local and middle-level cadres (leaders) and business-state bureaucrats sometimes provide for themselves, committed to each other, also among themselves, which allows them to form alliances with economic administrators of different levels and foreign businessmen, relationships aimed at channeling resources and privileges to themselves, their families and strengthening their positions as individual entities within Cuban society.
Written by Doctor Osvaldo Manuel Álvares Torres.