The day Arnaldo Tamayo returned to Earth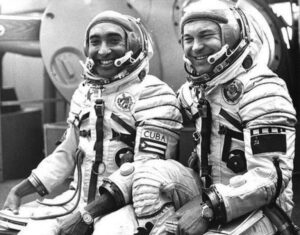 The day Arnaldo Tamayo returned to Earth, millions of Cubans returned with him. Undoubtedly, all the pride of his people accompanied him during that feat that made the man from Guantanamo the first cosmonaut from Latin America.
How could that young man, whose first jobs had been cleaning boots and helping in a carpentry shop, have imagined that he would get so close to the stars. With the triumph of the Revolution, he knew that becoming a pilot would no longer be an unattainable dream, but it would also depend on his determination.
That is why Arnaldo Tamayo Méndez, not only managed to study aviation technology, but he was an intelligent and responsible student among those chosen to study the career in the then Soviet Union.
It would not be his social or economic position, but his great human and professional qualities, which would later turn him into one of the crew members of the Soyuz 38 spacecraft, commanded by pilot Colonel Yuri V. Romanenko, hero of the USSR.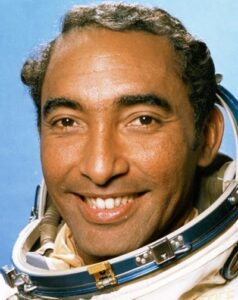 That glorious September 18th, 1980, his name headed the main headlines. That trip to space, in which he represented his continent, but also Africa and the Third World, allowed the execution of 20 works prepared with high rigor, largely by professionals from the Cuban Academy of Sciences.
But as the cosmonaut said in an interview granted to journalist and professor Iraida Calzadilla in 1995: «Historical responsibility states that it was Arnaldo Tamayo who flew, but Tamayo was the man who randomly made the trip on behalf of his people».
It was that modest Cuban who returned on September the 26th of the same year to Earth, where he was decorated with the first honorary medal of Hero of the Republic of Cuba. The rest of the medals and commemorations he received afterwards, or his responsibilities as a member of the National Directorate of the Association of Combatants of the Cuban Revolution, did not increase his ego, but they did increase his immense joy after that experience.
Arnaldo Tamayo will always relive that view of the planet from outer space in which, as he himself expressed, he used to get lost during his moments of rest; meanwhile, every September the 26th, the people remember that the same child passionate about airplanes under the sky of Guantanamo, became the 100th cosmonaut, the first and only Cuban to travel 550 kilometers outside the Earth.
WQritten by Jeidi Suárez García.