Distribution of rice for the family food basket for October has begun.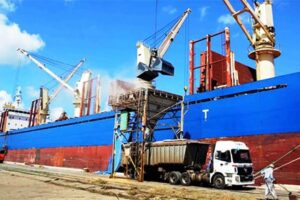 The unloading and distribution of rice of the regulated family basket for the month of October began this weekend, according to the Ministry of Domestic Trade (Mincin) through its account in X.
Transporters and traders are working hard to carry out this task in record time, announced the agency.
Around 15,600 tons of rice are being unloaded as of Friday at the Guillermón Moncada port in Santiago de Cuba, and as the process progresses it is being distributed to the provinces of the eastern region, Mario Sierra Osorio, deputy director of the entity, told Granma.
The port-transport-domestic economy operation has been conceived, this time, taking into account the fuel restrictions faced by the country, hence the days, means of transport and the rest of the resources used for the distribution of the main cereal consumed by Cubans are used to the maximum.
The executive added that, even under these conditions, «the unloading process is speeded up so that the ship goes to the port of Nuevitas, in the province of Camaguey, to continue supplying the rest of the country with the vital product».
Written by Luis Alberto Portuondo/ Granma