Sergio Roque's exhibition opens at the White Hall.
The exhibition of master Sergio Roque Ruano, entitled Cold, green, free and high, inspired by the royal palm and the beauty of Creole women, was inaugurated in the painter's gallery-studio, located in the Jose White Concert Hall.
In a trinomial of poetry, music and art, attendees enjoyed the performance of the Chamber Orchestra of Matanzas, conducted by maestro Bienvenido Quintana, and allegorical poems to the royal palm in the voices of Derbys Domínguez, Maylan Álvarez and Náthaly Hernández, to give way to the opening remarks by poet and critic Alfredo Zaldívar, who referred to the essence of the exhibition, an exponent of the curriculum and the immense work of the visual artist: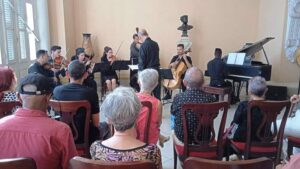 «Palm, woman and homeland can be the slender girl who touches the sky, the standard bearer who hoists her entrails; be nest and egg, sometimes a dream, sometimes a bouquet, a bowl, the protective forest, tenderness, a carpet, a trellis, a shelter, a gift, a shield that protects, a dance that liberates or rain that saves…».
And he affirms, «Sergio is the owner of knowledge that experience, studies, practice have given him… A Roque is a Roque, whether on the plane of an earthenware, in the rigor of the canvas, the most modest cardboard or the many forms of ceramics or sculpture.»
The exhibition has more than 50 pieces demonstrative of the aesthetic qualities of this fecund son, born in Camagüey, but «matancerized» for four decades.
In conversation with Sergio Roque he expressed:
«The central theme symbolizes Cubanness, love, around the fusion of the palm tree and the female figure. Precisely the series that names the exhibition from Dora Alonso's verses: 'Royal palm, living flag/ in the landscape nailed…/ fine, green, free and high…/ Royal palm, what a name yours/ to evoke the homeland!' and the one titled In the landscape nailed, constitute figurative visions of feelings that flutter over the Cuban land.»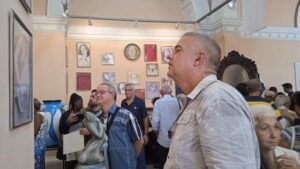 The curatorship was in the hands of the author and his wife, Lourdes Fernández Valhuerdi. The opening ceremony was presided over by Osbel Marrero, provincial director of Culture and José Manuel Espino, president of the UNEAC Matanzas, together with prominent creators from Matanzas.
The distinctive seal of the eminent artist is reflected in many of his works exhibited in the surroundings of the concert hall itself, in the Louvre Hotel and in the social house of the UNEAC.
Roque has also been awarded for his academic and precious work in the restoration of the Pharmaceutical Museum and the White Hall itself. He is considered a distinguished personality of Cuba's Athens.
The exhibition will be open to the public until the end of this month.
Written by María Elena Bayón.