Special morningl for National Culture Day.
On the morning of October 20th, the Pablo de la Torriente Brau elementary school in this municipality held a special morning session to celebrate National Culture Day.
During the event, sixth grade students danced to the rhythm of the danzón, and also explained to those present the reason for this celebration.
Several artistic manifestations joined in the day: the preschool choir sang the song Camilo y Che and the first grade students danced to the rhythm of a conga.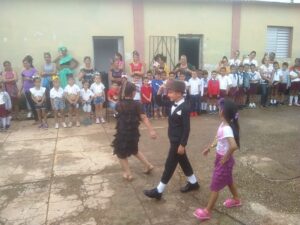 To remember our Afro-Cuban roots, teacher Yadira Rosales recited a poem, while part of the first grade group paraded representing each of the components of Cuban culture.
At the end of the event, the center's director, Madelaine García, congratulated the art instructors on the 19th anniversary of the José Martí Brigade.
Written by Regla Yasira de León Reyes.