Assembly XII Congress of the UJC takes place in Pedro Betancourt.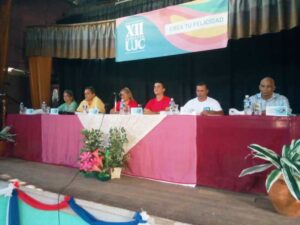 With the premise of guiding the new generations in pursuit of the historical continuity of the Revolution, the XII Municipal Assembly of the Young Communist League held a session at the Cuba Theater in Pedro Betancourt  municipality.
Important issues such as the exemplarity and combativeness of the militancy and the results of the work in the period that is ending, as well as the responsibility of the organization regarding the defense of the Homeland, the fight against political-ideological subversion and the leadership of the student structures and youth movements focused the attention of those present.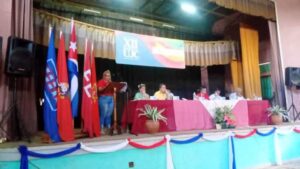 The members of the UJC, in constant link with the Party, the Municipal Assembly of People's Power and the Federation of High School Students, among other organizations, ratified their commitment to encourage systematization and preparation in the work with the reserves of cadres; the active and voluntary participation in the tasks of the productive sector; the formation of values and preventive work with the new generations, in addition to the quality in the political processes developed, both in the Youth Technical Brigades and in the other councils at all levels.
Likewise, the plenary emphasized the role and contributions of the youth vanguard to the economic, political and social activity of the territory, the need to preserve and exalt the legacy of the Heroic Guerrilla and, above all, the guarantee to continue improving the internal functioning of the organization.
It should also be noted that, simultaneously, during the day, the Electoral Council of the village led the election process for the vacant positions of delegates to the Municipal Assembly of People's Power in the 16th, 28th, 39th and 41st districts of the locality.
Photos: Louserelis Valle and Irisleidys Cárdenas, member of the Bureau and official of the Committee of the Communist Party of Cuba in Pedro Betancourt.
Written by Yadiel Barbón Salgado.