Matanzas gets out of the bad streak in the Elite Baseball League.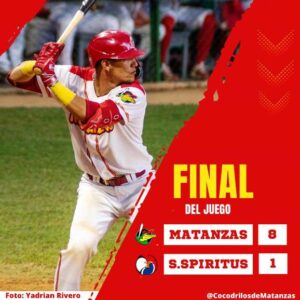 After four consecutive defeats, last Tuesday night the Cocodrilos de Matanzas remembered the taste of victory and they did it with category against the Gallos de Sancti Spiritus, eight goals to one.
From the mound, the excellent opening of the left-hander Yamichel Perez stood out to score his first victory, pitching six complete innings with six strikeouts, four hits allowed and one clean run, which was driven in by the historic Frederich Cepeda.
Also important was the work of relievers Alain Sánchez, Dairon Núñez and Jesús Henrique Pérez, who kept the Spartans at zero until the end of the game, giving a total of four more strikeouts for a total of eleven in the game.
Andrys Perez continues «on fire» at bat. Yesterday against the Gallos, he hit three of the four times he went to the batting box, with a double, an RBI and two runs scored.
Eduardo Blanco and Ariel Sánchez also stood out with three and two RBIs, respectively. In general, the eight batters who started the game had at least one hit.
With this victory, the Crocodiles still have a negative balance of three wins and four losses, tied with Las Tunas in fourth place.
Today, Wednesday afternoon, they will look for a victory in the last game against the Gallos to even the sub-series between the two and the number of wins and losses in the standings.
Written by Alejandro López Quintero.