Cuba remembers Commander Juan Almeida Bosque on anniversary of his death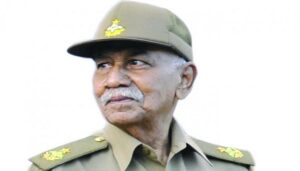 Cuba remembers Commander of the Revolution Juan Almeida Bosque, fighter of the Rebel Army and prolific creator, on the 14th anniversary of his death.
Miguel Díaz-Canel, first secretary of the Central Committee of the Communist Party of Cuba (PCC) and president of the Republic, evoked the outstanding revolutionary, who died in 2009 in Havana at the age of 82, as a result of a cardio-respiratory arrest.
«Our tribute forever, to our beloved Comandante Juan Almeida,» the president wrote on X (formerly Twitter).
On the same social network, the Cuban Parliament shared the message of its president, Esteban Lazo, who highlighted the patriotism and revolutionary sentiment of Juan Almeida Bosque (February 17th, 1927 – September 11th, 2009).
Manuel Marrero, Prime Minister, remembered him as a humble, brave and sensitive man, with great love and fidelity to the Homeland, always smiling; and added: «This is how we remember you Comandante».
For his part, Roberto Morales Ojeda, Secretary of Organization of the Central Committee of the PCC, expressed that the Commander of the Revolution is always present and his work endures and inspires.
«He taught us that, no matter how difficult the circumstances may be, surrender is not an option. And so it will be,» added Morales Ojeda, about Almeida's attitude in Alegría de Pío (1956), in the face of the enemy's call to surrender, after the first armed confrontation of the nascent Rebel Army.
Previously, Almeida had participated in the assault on the Moncada Barracks (July the 26th, 1953), for which he was imprisoned, and after his exile in Mexico, he left in the Granma yacht to the east of Cuba together with 81 other expeditionaries, to begin the guerrilla war against the tyranny of Fulgencio Batista.
During that period, he deserved the rank of Commander and founded and led the Third Mario Muñoz Front, in which, in addition to the 6,000 square kilometers it covered, he won the love of the villagers.
After the triumph of the Revolution (1959), he held numerous responsibilities as a member of the Political Bureau of the Central Committee of the PCC since its founding in 1965, vice president of the Council of State and president of the Combatants Association.
In addition to his revolutionary work, he also had a prolific musical and literary work, including more than 300 musical pieces and nine books.