In Varadero , the best way to close a Summer with love
After almost two months proposing options for enjoyment in lodging facilities, in the extra-hotel network of Palmares and in parks and squares in Yumurinas, the Ministry of Tourism (MINTUR) in the province of Matanzas will close the summer stage in Los Cactus, lodging located on the beachfront of Varadero.
We are pleased to reach this colophon after intense days of preparation of the most diverse offers possible, an inclusive design of the domestic market, fundamentally of the people of Matanzas who have had at their disposal cultural and gastronomic proposals in the Atenas nights, said Ibia Betancourt, MINTUR's sub-delegate in the Matanzas area.
In her opinion, a distinctive feature of the proposals has been a program prepared for the youngest members of the family, to whom several shows were presented at the Parque de La Libertad, at the Monserrate cultural center and in Palmares units at the famous Playa Azul.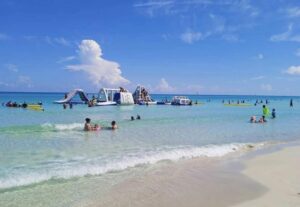 She highlighted the insertion of the sector in the electronic fairs held both in the capital city and in Varadero, as well as the improvements in the city beaches, the aquatic activities and the delight of many with the casino wheel of our sector, with ample activity in this summer period of July and August.
The sub-delegate of the MINTUR mentioned the areas of the boulevard on 62nd Street, the Starfish Cuatro Palmas Hotel and Los Beatles, as the places of greatest demand by nationals and foreigners at any time, especially at night, due to the great affluence, especially of young people.
He considered this one of the hardest summer seasons of the last years, hindered by the limitations of resources, shortages faced, he said, based on the creativity and innovative spirit of the majority of those who make tourism in a territory like this, strategic for the percentage that it represents in the total income of the country.
Betancourt mentioned the hard work of directors and workers, especially of Los Cactus and the Paradiso Cultural Tourism Agency, to guarantee the end of the summer with the same quality of the beginning, a beach party remembered by those who had the possibility of participating, said the sub-delegate of the MINTUR.
Written by Eva Luna Acosta Armiñán.