Universidad de Matanzas assures the continuity of its teaching activities.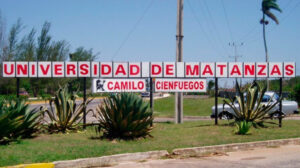 In view of the tense energy situation and the insufficient availability of fuel in the country, the Camilo Cienfuegos University in Matanzas has modified the planning of its teaching activities, which will be carried out through digital platforms until the new contingency that affects the transportation of students and professors is solved.
According to the note published on the website of the academic institution, methodological, professional development, research and administrative activities planned through the channels established in the virtual modality are maintained.
Despite the complex context, the University of Yumurina prioritizes several processes and commitments with the territory, among them, the support to the Fifteenth National Internal Control Check, an activity that extends until October 30 and where 77 students participate; the attention to the young people who joined the Contingent Educating for Love, a task of impact in view of the deficit of teachers in the province and the logistical support of foreign students who are in the institution is maintained, in addition to ensuring their professional training.
At the same time, the university maintains other processes such as the Anticipated Work Placement of students of terminal years; the work practice planned for the period and the development of the Studies Completion Exercises, as stated in the informative note issued.
The undergraduate training process is guaranteed online based on indications from the teaching staffs of the various careers and faculties, with emphasis on virtual learning environments.
No less important for the institution is the upcoming process of entrance exams to Higher Education, which will be held on October 3rd, 6th and 12th and for which the conditions in the pre-university centers are assured.
The postgraduate process and doctoral training are also a priority and continue in the semi-presential modality, as well as food services, lodging, secretarial procedures, consultancies, attention to the population, among others.
According to the note, for any questions or concerns, the Board of Directors of the University of Matanzas maintains available telephone numbers 45 261950 or 45261992.
Written by Yovana Baró Álvarez.