José Fernando Placeres: a physician with the soul of a teacher.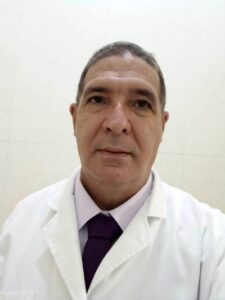 As a child, José Fernando was the doctor who cured and taught the other children in the neighborhood. The task of protecting them from getting sick was always his favorite role-play, until that toy stethoscope became real and he had to face diseases that until then he considered rare, such as tuberculosis, schistosomiasis and malaria.
José Fernando Placeres Hernández soon became one of the good doctors, one of those who love their profession at all times, but also one of those who, in their eagerness to save, choose to pass on their knowledge to others and give their all in the attempt.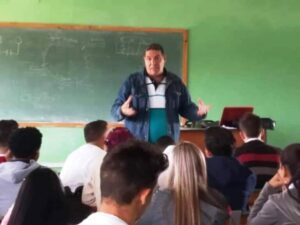 I always wanted to be a doctor, but I also wanted to teach medicine,» he confesses in celebration of World Teachers' Day. When I graduated, I was selected to work as a family doctor in a school where young people from Mozambique, Ghana and Sudan were studying, on the Isle of Youth. Afterwards, I continued as a Family Physician in Pedro Betancourt, where I became a First Degree Specialist in General Comprehensive Medicine (MGI) and developed health promotion activities», he recalls.
It was in 1993 when he started teaching, until he became Assistant Professor, this last category acquired at the Calixto García School of Medical Sciences in Havana; although, as he himself pointed out, in all cases he had to appear before very demanding tribunals.
«I always wanted to be a professor to transmit the knowledge I had already acquired, instill values, and contribute to the development of skills and abilities of future health professionals; as well as the ability to make important and agile decisions.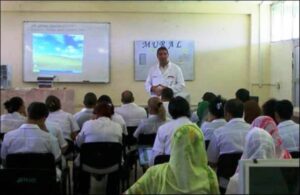 «I have as a paradigm my brothers, for me, all masters in their professions. Also to several of those who were my teachers and later, many have been my colleagues; among them: Maritza Alonso, Olga González La Nuez, Gumersindo Suárez Surí, Meylins Pons, Lissette Acosta, Silvio Soler Cárdenas, Julio Font Tió, Ariel Jordán, Mayra Guerra, Erasmo Hernández, Ercilio Vento, Idalmis Salabert … «explains the physician, whose list, although here I do not reproduce it in its entirety, is much more extensive, as one who does not want any of those essential names in his growth to escape.
But in addition to them, he thanks his mother, Juana Rosaura Hernández Moreno, who also passed on to him human values, culture and ethics, as his main motivation. «She provided me with tools that still allow me to bring out the best in me to offer it to the students with effort and passion.»
Fernando Placeres confesses that although some say he has a strong character, he always tries to put himself in the students' shoes, identify their personal, family and social problems, achieve a good communication and relationship based on mutual respect; while trying to stimulate learning and the development of their intellectual and creative potential.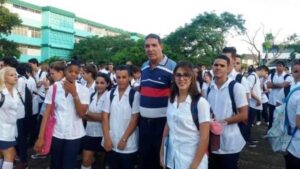 «I have always considered that I should not only instruct, but also educate. I try to keep myself updated and reinvent myself in every teaching activity. I don't like classes where the reproduction of content predominates. I always try to interact actively with the students, I provoke them, I try to teach them to do, to be better men and women; I force them to think, to interpret and I also give them elements so that they can unlearn, when necessary.
«There are facts that mark. You can't describe what it feels like when you meet a student again and they greet you with that 'profee…' that you enjoy so much; or when they look for you to be the tutor of a scientific paper or of their specialty thesis. Receiving them at the beginning of their first year of studies, accompanying them for more than five years of their career or three years of specialty and being able to take a photo on graduation day, that is very satisfying and much appreciated. These are unforgettable moments».
-As a student of topics such as the family and the elderly, the Family Physician and Nurse (MEF) program, the formation of values, just to mention a few, how do you transmit to your students this interest in research?
«Indeed, these are the topics I research, along with others such as the history of medicine, medical education and methodological work, prevention of communicable and non-communicable diseases. In each period, I link the interested parties to the Student Scientific Working Groups. Each possible outcome usually starts with a review, by the students, of what has been previously published on that topic.
One of his challenges is to encourage comprehensive general practitioners to improve their skills. If approved soon, he should coordinate the master's degree in Primary Health Care (PHC) in Matanzas. «That could be a great opportunity for many,» he says.
Meanwhile, Dr. José Fernando Placeres Hernández is preparing for the III National Congress of Family Medicine, a preamble to the 40th anniversary of the beginning of the MEF program, to be held on January 4th, 2024. Continuing his efforts «to work with greater professionalism and love» will always be his greatest concern as a physician and teacher.
Written by  Jeidi Suárez García.